Queer Women Suffragists
Category ::
Contributed by Anna Bamber
Queer women suffragists played a crucial role in the fight for women's right to vote during the suffrage movement. Many histories of the movement omit the stories of their lives and contributions due to social stigmas and the erasure of queer identities. However, there are many notable individuals whose stories deserve to be told. Following are the biographies of a few prominent queer women suffragists. Dr. Anna Howard Shaw (1847-1919), at right, was a renowned suffragist and an openly lesbian woman. She became involved in the women's suffrage movement in the United States and eventually served as the president of the National American Woman Suffrage Association from 1904 to 1915. Alice Dunbar-Nelson (1875-1935) was an African American writer, suffragist, and educator. While her sexual orientation is not as extensively documented, she had relationships with both men and women, suggesting her queer identity. Dunbar-Nelson was involved in various suffrage organizations and used her platform to fight for gender and racial equality. Mabel Hampton (1902-1989) was a Black lesbian activist who actively participated in the women's suffrage movement. She joined the Harlem branch of the National Association for the Advancement of Colored People (NAACP) and fought for civil rights and women's suffrage throughout her life. Hampton's activism continued beyond the suffrage movement, advocating for LGBTQ+ rights in later years. Dr. Mary Edwards Walker (1832-1919) was a physician, abolitionist, and women's rights advocate. While her sexual orientation is not as widely discussed, there is evidence to suggest that she had same-sex relationships. Dr. Walker actively participated in the women's suffrage and was awarded the Medal of Honor for her medical services during the American Civil War. These are just a few examples of queer women suffragists who made significant contributions to the fight for women's right to vote. It's important to acknowledge and honor their often overlooked and marginalized roles in the suffrage movement, as their experiences shed light on the diverse backgrounds and identities of those involved in this pivotal moment in our country's history.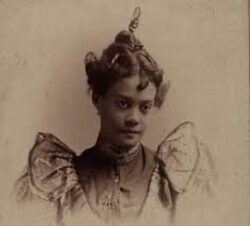 Alice Dunbar-Nelson (1875-1935)